Ladies lovers rejoyce! Teensville Records (a division of RRR) presents GIRLS ON 45, a fantastic new compact disc release featuring over an hour of 60s girl pop sounds. Since you all own the wonderful line of products already available on Teensville, I don't need to tell you the wondrous sounds to be found on this label. This newest release is no different, with 26 rare sounds for your enjoyment.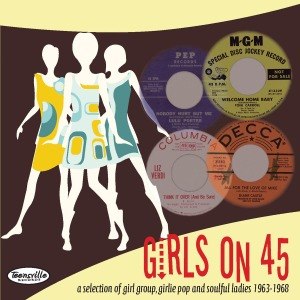 The packaging is colourful and glamorous - pictures of the artists and records are abound. Liner notes are provided by head-honcho Ash Wells and the talented Mike Edwards, chronlicling the stories and sounds so you can read as you listen. A point that's come up recently - some music fans are wary of buying material by artists they have never heard of. Well, who says unknown equals poor? In this case, it's the exact opposite! Compilers Ash and Mike have chosen to include 26 songs that weren't even close to hits - but they should have been!!! Give it a try, something new won't hurt. In this case, I promise! You'll have to buy the cd to read all about the artists and songs, but I'll provide a few of my personal fave raves from the disc:
-The Emeralds' "Did You Ever Love A Guy", coming across like a brilliant lost Chiffons single. -Atmospheric and dramatic sounding "Better Off Without You" by Beverly Noble. -Hideously rare Toni Wine/Tony Powers composition "Make Me Happy", sung here by Barbara Wilson. -Italian charmer Piccola Pupa sounding like an updated female Neil Sedaka in 1965 on "Put Two Extra Candles On My Candles". It was co-written by Howie Greenfield, no wonder. -Vi Valesco's "If You Must Break A Heart" from her Vee-Jay album, in stereo no less!
They're all good, though, and I urge you to support a great label and a great product by purchasing GIRLS ON 45 (on cd!)(or official mp3 download!). Links below for your convinience: CD Purchase Link:
CLICK HERE
MP3 Download Purchase Link:
CLICK HERE