February 14th, 2012. Maybe a mundane day for some, a romantic day for others but for the informed music lover, it is a grand day. Why? It is (or was, depending on when you are reading this nifty little blog post), the day that Grand Hotel by The Explorers Club is released.
The Explorers Club are a bunch of nice lads hailing from South Carolina with a knack for creating finely crafted pop tunes chock full of harmony and melody. Their first album was released in 2008, entitled Freedom Wind, and quickly became a favorite of anyone who heard it. It had a definite Beach Boys flavor, and for this writer's money (not that I have any to give you!), was better than many of the BB's own creations that spun on 33 and 1/3.
It's nearly 3 years later from that monumental release, and look ma, here's the next one! And you can buy it on CD (
click here
), Vinyl (
click here
), or MP3 download (
click here
). You could take my word for it and just buy it right now – but I figure you might want a little more enticing. Read on.
The cover art (pictured below), shows the influence of the A&M sound on this latest record. It may look like you are about to get some Herb Alpert record inside, but no, it's the Explorers Club, offering so much more.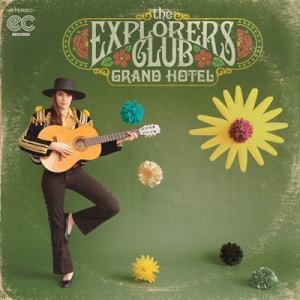 Grand Hotel was mixed by Mark Linet, the man responsible for mixing many Beach Boys and Brian Wilson projects. While the BB parallel doesn't end there, this new record is decidedly less Beach Boys than the first one, and definitely more "Explorers Club" in its' place.
Did you ask for a track-by-track rundown? No? I'll give you one anyway.
The brief instrumental "Acapulco (Sunrise)" sets the mood. Oceanic sounds open the record, and soon flutes, guitars, and island sounds come into the mix to greet you. Everything sounds so warm and enticing – within only the first few seconds of the album the listener can tell much care was put into the performing and mastering, by the EC and M.L respectively.
Then there are horns, and you know you're in for a treat, because the next track is the first main track, "Run Run Run". At a nice pace with a pleading lead vocal, this is about as perfect as a song can get. The harmonies on the chorus are rich and full, and if you listen closely, there are some faint bongos, recalling to mind 'You're Gonna Lose That Girl' by the Fabs. Excellent choice for the first single from the album!
A blues based intro jolts "Anticipatin'" to a start, but just as soon as it gets funky, The EC switch it up and go into a melodic, deep voiced vocal that tells the listener to forget their troubles. I'm not sure if they were going for it, but the verses sound like a really good Hall & Oates song. But wait! Just as you're digging the KissOnMyList vibe they're putting down, the chorus comes in, and damn, it sounds like the sweet falsetto combination of Lou Christie and Frankie Valli! Such a feel good track and just the record that everyone should be trying to emulate from this point forward.
After all the excitement, "Bluebird" is next, a soft mid-tempo ballad, with some nice snare brushes and a laid-back, mellow vocal. Beautiful harmonies on the chorus.
The title track, "Grand Hotel", is an instrumental. It has some great Herb Alpert-esque horns, conjuring up images of the cover art – a beautiful girl, darkish green colour all around, and perhaps some ringwear…
"Grand Hotel" segues into the next track, "Go For You", which begins with a tinge of psychedelica, but quickly turns into a wonderful uptempo pop track with an irresistible catchy chorus. The middle-eight shows a bit of the Burt Bacharach sound, never a bad thing. I go for "Go For You" quite a bit!
Acoustic plucking opens "Any Little Way", a short one minute link track which combines 70s disco with some Brian Wilson-esque falsetto touches. Another of my (many) favorites on the album is the next tune entitled "It's No Use". A pop-ballad stunner, for sure. There is something so special about this song that I can't quite put into words. It's one you just have to hear for yourself. If Pet Sounds was made in the very early 70s, this would be right at home. At the tail end of the track we get treated to a very Gary Puckett fade out.
"Sweet Delights" is another ballad, and another beautiful one at that. The lead vocal is reminiscent of Carl Wilson, in this writer's mind anyway. Close your eyes and listen to this one in the dark – magic stuff.
The tempo gets picked up quite a bit on "I've Been Waiting", starting out with some Buddy Holly drum beats and acoustic strums, and continuing on with a unique slice of power-pop. I like the call-and-response playfulness between the lead vocals and background harmonies.
"It's You" is a piano driven ballad, reminiscent of the fantastic things Paul M., Eric C., and Todd R. were doing in the early 70s. The verses build up to a sweet falsetto chorus. The production is clean, highlighting and letting every element shine in its own way. The ending calls to mind Barbara Mason's 1965 hit, 'Yes I'm Ready'.
"Acapulco (Sunset)" signals that the record is soon to end, leaving the listener with three acoustic driven ballads before the album reaches completion - "Summer Days, Summer Nights" (which may or may not have been influenced by the title of a certain Beach Boys album), "Weight of the World" (which has a fantastic island feel), and "Open The Door". This triplet of songs, although not in sound, is very Pet Sounds in nature. Feelings and emotions are expressed through music that is so special, you'll need to hear it for yourself.
Although there are many more months to come in 2012, "Grand Hotel" is easily going to be the best album of the year. I strongly suggest you run, run, run to pick it up as fast as you can!
-KS